Atlantis Products Private Limited, a venture of Team Rajiv, offers a total packaging solution. The company is constituted with an objective to cater to international market with a range of plastic finished goods, which can be manufactured in house. With this Team Rajiv  is entering into the international business arena to offer a total plastic packaging solutions by exploiting its strength in terms of technical know-how, business relations and outsourcing.
About The Chairman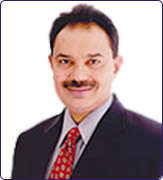 Mr.Rajiv Vastupal
Mr. Rajiv Vastupal, chairman of Atlantis Products Pvt Ltd, is a first generation entrepreneur and guiding force for all the companies falling under the umbrella of Team Rajiv. A success story by himself, he has started his business before 35 years with a very small seed capital and turnover of Rs. 34000 in first year, today has achieved a sales turnover of more than Rs. 1000 Cr.
A great visionary by himself, he is nurturing a team of professionals and grooming them to be self motivated entrepreneurs and handling Separate profit centers. Team Rajiv is one of the largest agency house in Western India, dealing in diversified business like distribution of Polymers, Electrical and switchgears & manufacturing of Woven sacks, fabric & FIBC, winding wires and flat cables, lighting equipment, automation products, industrial panels, Chemicals etc.
Under his leadership, Team Rajiv has emerged has one of the most admired business group in terms of credibility and ethical business practices.
Meet the Directors
Mr. Pathik Shah
(Managing Director)
Mr. Pathik Shah, Managing Director of Atlantis Products Pvt Ltd, He is a chemical engineer and Management graduate; Having an experience of more than 20 years in profession, and working with Team Rajiv from last 16 years.
Mr. Malavraj Bhatt
(Director)
Mr. Malavraj Bhatt, Director of Atlantis Products Pvt Ltd. is a professional working with Team Rajiv. He is a mechanical engineer having 19 years of experience in woven sack industry.
Mr. Sajag Mehta
(Director)
Mr. Sajag Mehta, Director of Atlantis Products Pvt Ltd, is a professional working with Team Rajiv for more than 13 years.He is a commerce graduate with double degree, a key member taking care of commercial activities of the company.
A Message from Management
Our Company foresee a great success in satisfaction of our customers, value the true partnership with an idea of growing together……
Our Strength
Understanding the unarticulated desires of customers and translate into best quality products through development with an experienced team work….
Provide goods when needed by taking advantage of nearest harbour which gives us a competitive edge and help us becoming a most reliable partner……
Pre and post sales services with a view to assist our valued customers…
Relationship Matters
We have only one priority that is our "customer"….
Aim is not only to sale the products, but also building a great relationship with our customers who don't just come back, they also favour us by bringing more opportunities….
Our thought of "Lets Grow Together" is the key of our Legendary success…

Core Value
Honour the commitments.
Maintain highest ethical business standards.
Fairness in all our dealings and interactions.
Value every member of team.
Encouraging developments.
Stay open minded and welcome innovation and new ideas.
Committed to sustain a good environment.
Always excel towards growth.