The 1- Loop and 2- loop bags are cost effective and suitable for bulk handling solutions. These bags are mainly used for storing larger volume and high capacity contents like, fertilizers, fish-feed, cement, seeds, chemicals, minerals, food grains, etc. These bags are available in both inner liner and outer liner options. Apart from options these bags can be produced with filing and discharge spout, suspended liner, multi-trip, UN approved for hazardous goods, etc.

Benefits
These bags are cost-effective
Best in handling with their qualities
Easy to fill, discharge and store
Easily transportable
Details About 1 & 2 Loop Bags.

Body Construction : tubular fabric no vertical seam available with different types of fabric weight/colours
Fabric : PP  with High tensile strength and UV stabilized
Minimum 50x50cms width
SWL : 500Kg -2000 Kg
SF : 5:1 & 6:1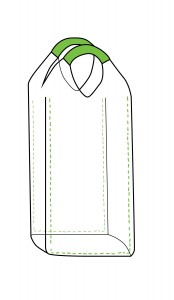 Lifting : one point or two point
Top : Open or Spouted.
Bottom : Flat base, Double Layer, Star Bottom, Square base, Base with discharge spout, folded bottom
Printing : 4 color per side, maximum up-to 6 colors per side with double round.
Liner : Coextruded LDPE / LLDPE liner (30 to 150 µm)
Shapes of liner  : Bottle neck, tube form, form shaped , suspended, Shoulders sealed with vent holes, Gusseted liners, Glued liners, liners folded over loops, liners with Different dart impact strengths possible, can be Transparent or colored liner, also available with Different levels of permeability
There is a direct relation between the inner bag and bagging speed. Upon request the inner liner can be pre-blown and shaped, which results in significant improvements in bagging speed.
Types of Bag : UN Bags , Food approved Bags , industrial clean bags.