The Q-Bag or Baffle Bag as some people may know them remain within its pallet dimensions when filled. The unique design of the baffles in the bag construction prevents the bag from bulging or falling over. We designed our Q bag to be as effective as possible so that when the bag is filled it stays the correct shape throug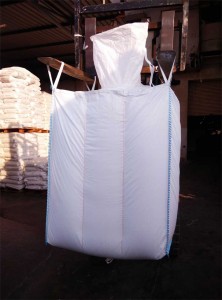 hout the complete height of the bag and doesn't bulge or fall over when being stored or transported.
Our design incorporates baffles across all four corners of the bag, within these baffles are holes cut out which allow the product to flow evenly throughout the bag. Rather than the baffles being glued into the bag we sew them into the side-panels of the FIBC with filler cord. This then makes the FIBC sift proof and capable of storing very fine powders without leaks when being stacked or transported.
Q-bags are generally made from coated PP fabric but can be made from uncoated fabric as well if required. A Q-bag gives improved stability and improved loading efficiency of containers and trucks.
At Atlantis we can produce a variety of simple or bespoke FIBC's. There are many different options to choose from when designing a Q-Bag for a particular product or industry.
Options available are:
Coated or Uncoated fabric
Have a safety factor of either  5:1 (single trip) or 6:1 (multi trip)
Be UN-approved with a safety factor of 6:1
Be printed in multicolours on four sides and supplied with a large variety of document pouches and labels
Dust proof
And various inlet and outlet closures
There are also a range of additional features available when designing any form of Q-Bag. There are options of having a:
Skirt or Duffle Top
Inlet filling Spout
Discharge Spout
Conical Discharge Spout
PE Baffle liner
Or a combination of all can be made.